Saturday 30th March was a day St Kieran's College stood tall to claim our schools 23rd Dr Croke Cup in a tense exciting game in O'Connor Park, Tullamore against Presentation College, Athenry on a scoreline of 1-15 to 1-12. See our photo gallery for photos from the day. 
In a rematch of last years final, this encounter was always going to be a titanic struggle. Athenry's Mark Kennedy struck the first score of the game following a series of rucks and some great play from TJ Brennan. Indeed, Athenry targeted Brennan with their puck outs early in the half. Brennan won the first but Darragh Corcoran steadily gained the upper hand. Kieran's responded through Eoin Cody following great work from Aaron Brennan. Cody and Kennedy continued with their personal shootout from place balls. Martin O'Connell was the second St Kieran's scorer driving onto a loose ball and firing it over the bar after 23 minutes. Eoin Cody created the first goal opportunity of the game which crashed against the post after an incisive break. Both defences were on top. Padraig O'Neill and Adam Burke were having a great battle at full back full forward respectively. Darragh Corcoran and Killian Egan were dominant at half back. The sides went in level at half time, seven points a piece. Athenry had played against the breeze and would have been happy with the scoreline.
The second half started with Cody pushing Kieran's three clear with some trojan work from Man of the Match David Blanchfield. However, the momentum swung in favour of Athenry when Kennedy crashed the ball passed Dean Mason in the Kieran's goal after 39 minutes. Brandon Lee had made a great run from the middle of the field creating the opportunity for Kennedy. Kennedy and Brennan added further points to push Athenry in front after 45 minutes. The crowd expected Athenry to push on. However, the Kieran's men stood up once more. Kieran's took over at midfield and began to really chase down their opponents all over the field. : O'Keeffe was coming to terms with Kennedy, Conor Murphy was providing cover at centre back and Ciaran Brennan's move to midfield swung the momentum back Kieran's. Conor Kelly kicked home a scrappy goal after 54 minutes. David Blanchfield and Killian Egan put over two remarkable scores each to push Kieran's clear. A late free by Kennedy brought the margin back to three points with seconds remaining. Athenry never got another chance to force extra time like they had twelve months earlier. Jack Brennan emerged with the last ball and the referee Johnny Murphy blew the final whistle. The large Kieran's support rushed onto the field to celebrate another remarkable landmark in their famed history. 
Scorers: Eoin Cody 0-8 (0-6 frees), Conor Kelly 1-0, David Blanchfield & Kilian Egan 0-2 each, Martin O'Connell, Ciaran Brennan & Aaron Brennan 0-1 each.
The following is taken from the Match Programme on the day: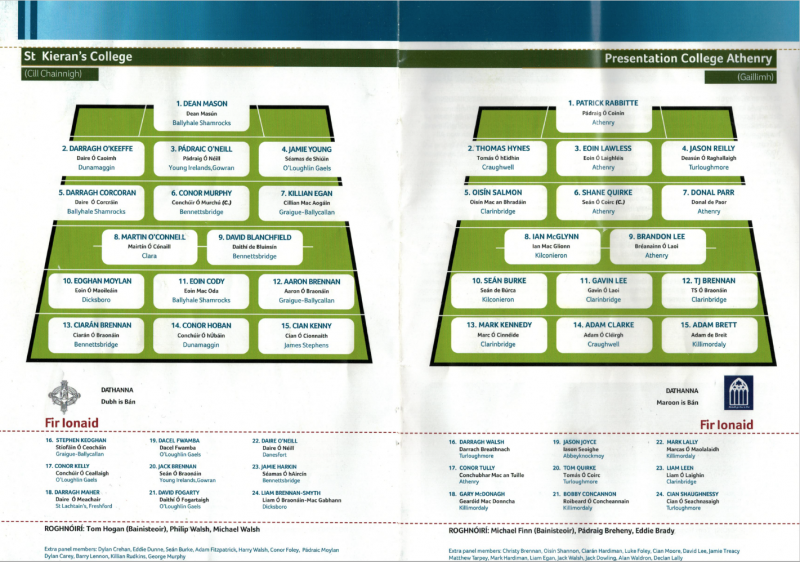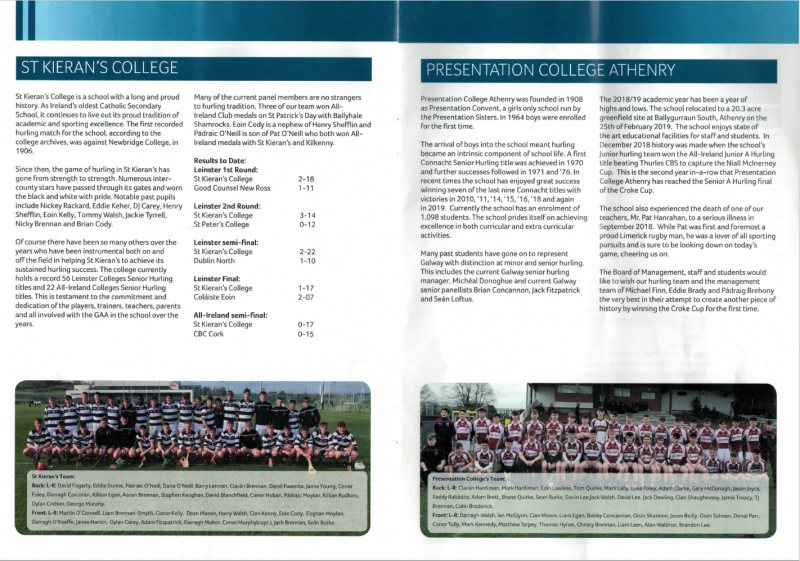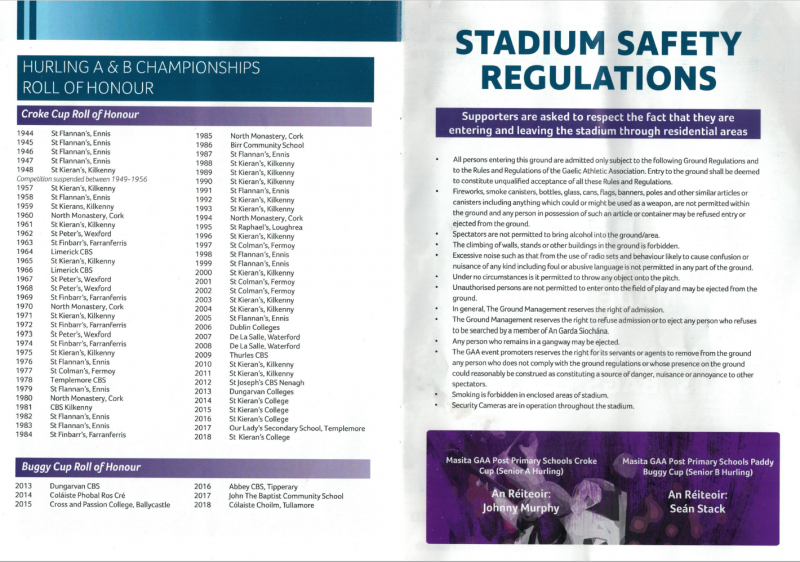 St Kieran's College
1. Dean Mason (Ballyhale Shamrocks)
2. Darragh O'Keeffe (Dunnamaggin)
3. Padraig O'Neill (Young Irelands)
4. Jamie Young (O'Loughlin Gaels)
5. Darragh Corcoran (Ballyhale Shamrocks)
6. Conor Murphy (Bennetsbridge)
7. Killian Egan (Graigue Balycallan)
8. Martin O'Connell (Clara)
9. David Blanchfield (Bennetsbridge)
13. Ciaran Brennan (Bennetsbridge)
11. Eoin Cody (Ballyhale Shamrocks)
12. Aaron Brennan (Graigue Ballycallan)
18. Darragh Maher (St Lachtain's)
14. Conor Hoban (Dunnamaggin)
15. Cian Kenny (James Stephens)
Subs
17. Conor Kelly (O'Loughlin Gaels) for Hoban (48 mins)
19. Dacel Fwamba (O'Loughlin Gaels) for O'Connel (52 mins)
20. Jack Brennan (Young Irelands) for Murphy (59 mins)
Referee: Johnny Murphy (Limerick)
Media Reports relating to the game:
To listen to radio commentary of the game: