Adrian Mullen (Ballyhale Shamrocks)
Michael Cody (Dunnamaggin)
Tommy Walsh (Tullaroan)
Jonathan Barron (Thomastown)
Jack Keoghan (Tullaroan)
Jason Cleere (Bennettsbridge)
Eoin Walsh (Lisdowney)
Jason Byrne (Clara) (0-1)
Richie Leahy (Rower-Inistioge) (0-2)
Liam Blanchfield (Bennettsbridge) (0-1)
Sean Morrissey  (Bennettsbridge) (0-2) Captain
Joe Connolly (Clara)
Ray Lahart (James Stephens) (1-5, 4 frees)
Billy Ryan (Graigue-Ballycallan) (0-3)
Tadhg O'Dwyer (James Stephens) (0-1)
Subs: Eamon Egan (Graigue-Ballycallan) for Jonathan Barron 46 mins, Niall Walsh (Windgap) for Joe Connolly 47 mins, Eoghan Kearney (Dunnamaggin) for Tommy Walsh (inj.) 50 mins and Martin Keoghan (Tullaroan) for Eoin Walsh 61 mins.
Back Row: (left to right) Daniel O'Connor, Conor Byrne, Brían Kirwan, Joe Connolly, James Mullally, Aidan Nolan, Tommy Walsh, Billy Ryan, Eoghan Kearney.
3rd Row: (left to right) Robert O'Flynn, Edmond Delaney, Kevin Murphy, Martin Keoghan, Geoff Brennan, Jason Barcoe, Sean Carey, Niall Walsh, Victor Costelloe, Mr Ger Flood (trainer).
2nd Row: (left to right) Mr Ken Maher (trainer), Jonathan Barron, Kevin Brennan, Adrian Mullen, Richie Leahy, Edward Moylan, Michael Cody, William Spencer, Sean Brennan, Eamonn Fennelly, Darren Mullen, Evan Carroll, Mr Liam Smith (trainer).
Front Row: (left to right) Eamon Egan, Jack Keoghan, Jason Byrne, Jason Cleere, Liam Blanchfield, Sean Morrissey (captain), Ray Lahart, Eoin Walsh, Tadhg O'Dwyer and Shane Byrne.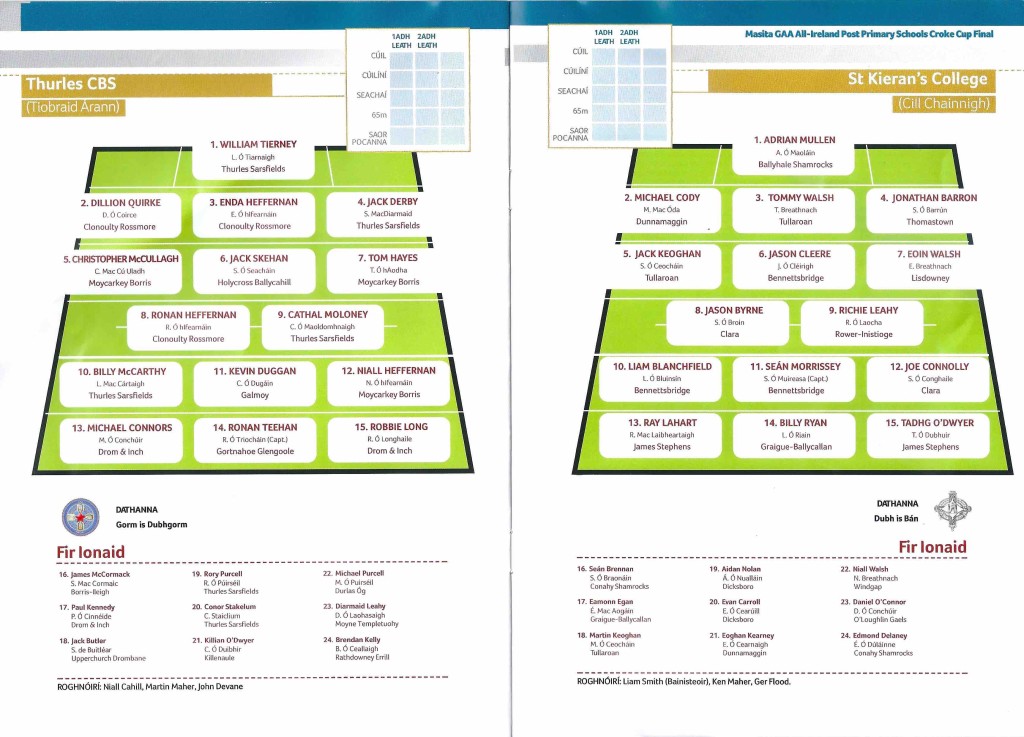 20th Croke Cup Title for St Kieran's College
St Kieran's College captured the Croke Cup for a record 20th time following a 1-15 to 1-12 win over Thurles CBS in the 2015 All-Ireland Post Primary Schools Final. Click on this link for the Match Programme for the 2015 All-Ireland post Primary Schools A Final.
Semple Stadium in Thurles was the venue on Saturday April 4th for what proved to be a tense but absorbing All-Ireland Final between the Munster and Leinster Champions with St Kieran's deservedly winning out in the end.
St Kieran's started well leading 0-4 to 0-1 with 14 minutes gone until Thurles forward Michael Connors scored a goal which put them level. But the team were very quick to reply with an outstanding goal of their own, when 3 minutes later Ray Lahart gave a pass from his own 65 to Billy Ryan. Ryan ran out to the side gave a pass back to Lahart who ran all the way to the 21 and replied with a well worked goal. Click on Ray Lahart's goal to see the TG4 video of the goal.
At the break, the College were up 1-10 to 1-7. Thurles came back into it fast in the second half with points from Jack Skehan and Niall Heffernan to bring the deficit to one point. The men in black and white came back with 4 unanswered points, one hard worked, one from Richie Leahy, two from Lahart who would end up with a total of 1-5 and the fourth from the other midfielder Jason Byrne.
Thurles struck back with 2 more points to make it 1-11 to 1-14 with 10 minutes left. Just before that corner back Johnny Barron went off injured and a few minutes later while trying to stop one of Thurles's best players Billy McCarthy, Tommy Walsh and Eoin Walsh got bundled up in a challenge but continued playing.
In the 59th minute Morrissey scored Kieran's final score to put them 4 ahead into additional time. However the Tipp men were not stopping playing yet and back up the field the ball went and corner forward Robbie Long nearly struck a ball but it went over the bar back to the a 3 point game. With 40 seconds remaining Thurles were awarded a free in which they needed a goal.  The ball was dropped in and won by substitute Eoghan Kearney who ran right beside the referee as the final whistle was blown.
St Kieran's College were crowned All Ireland Champions for the 20th time and Bennettsbridge clubman Seán Morrissey accepted the Croke Cup. Click on Presentation of the Croke Cup to see the full presentation of the cup to Sean on TG4.
Reflecting back on the year, this was one of the most successful years in the history of hurling in St Kieran's College. The team was undefeated all year and in the process captured the Leinster League, a record 53rd Leinster Title and a record 20th All-Ireland Colleges Title. Great credit is due to all of the players and to the management team of Mr Liam Smith, Mr Ken Maher and Mr Ger Flood.
Well done to everyone involved on this outstanding achievement as another glorious chapter is added to the proud hurling tradition of St Kieran's College.
For all the match reports in the Kilkenny People on Wednesday April 8th click on the links below.
Click on Defiant Kieran's make it 20 for John Knox's report on the game.
Click on The 'Super Saints' grew up as champions together for John Knox's post-match reaction from Thurles.
Click on Kilkenny People Preview of the Final for John Knox's preview of the game in the Kilkenny People including "Strong willed Kieran's are up against it yet again" , "Meet the St Kieran's College team" and "How Kieran's and Thurles reached the final".
For reports in the National Newspapers click on the links below.
Irish Independent Match Report
To see the Full Game (TG4 coverage) click on the Youtube link below.
All-Ireland Post Primary Schools Final 2015
For photos from the game courtesy of Maurice Walsh please click on the photo below.
[media id="783″]
To see photos of the presentation and post-match celebrations courtesy of Maurice Walsh  please click on the photo below.
[media id="831″]
The Path to the Final
Read Maurice Walsh's full review of the campaign for the 2015 College Record by clicking on the link Senior Hurling Report 2014-2015
For photos, video and report on the All-Ireland S/F victory over Presentation Athenry.
For photos, video and report on the All-Ireland Q/F victory over Rochestown, Cork.
For photos, video and report on the Leinster Final victory over St Peter's, Wexford.
For photos, video and report on the Leinster S/F victory over Good Counsel, New Ross.
For photos, video and report on the Leinster Q/F victory over Kilkenny CBS.
For photos and report on the Leinster League Final victory over Borris CS.
For photos and report on the Leinster League S/F victory over Kilkenny CBS.