St Kieran's College defeated St Peter's College, Wexford in the final of the 2015 Leinster Post Primary Schools Senior Hurling Championship and in the process captured the Corn Uí Dhúill Trophy for a record 53rd time. St Kieran's were in good form coming into the final following comprehensive victories over Kilkenny CBS in the quarter final by 1-14 to 2-3 and Good Counsel, New Ross in the semi final by 1-18 to 0-5.
The final was played in difficult blustery conditions at Dr Cullen Park, Carlow and it took the St Kieran's lads a while to settle. In fact there was very little to separate the teams in that 1st half which ended with St Kieran's leading by 0-5 to 0-4 at half time.
St Kieran's improved their performance considerably in the 2nd half however, despite St Peter's drawing level (0-7 to 1-4) in the 31st minute, when John Lee Meyler latched onto a breaking ball in the St Kieran's goalmouth to score their only goal of the game. Within 3 minutes St Kieran's scored their only goal of the game when Richie Leahy raced through the heart of the St Peter's defence to score a wonderful solo goal and give St Kieran's a 1-8 to 1-4 lead (see video clip below). St Kieran's dominated from there to the finish and were deserving winners in the end by 1-14 to 1-6.
See Sean Morrissey accepting the Corn Uí Dhúill trophy on behalf of the team in the video clip below.
St Kieran's now face St Francis College, Rochestown, Cork in the quarter-final which is due to be played on Saturday, March 14th.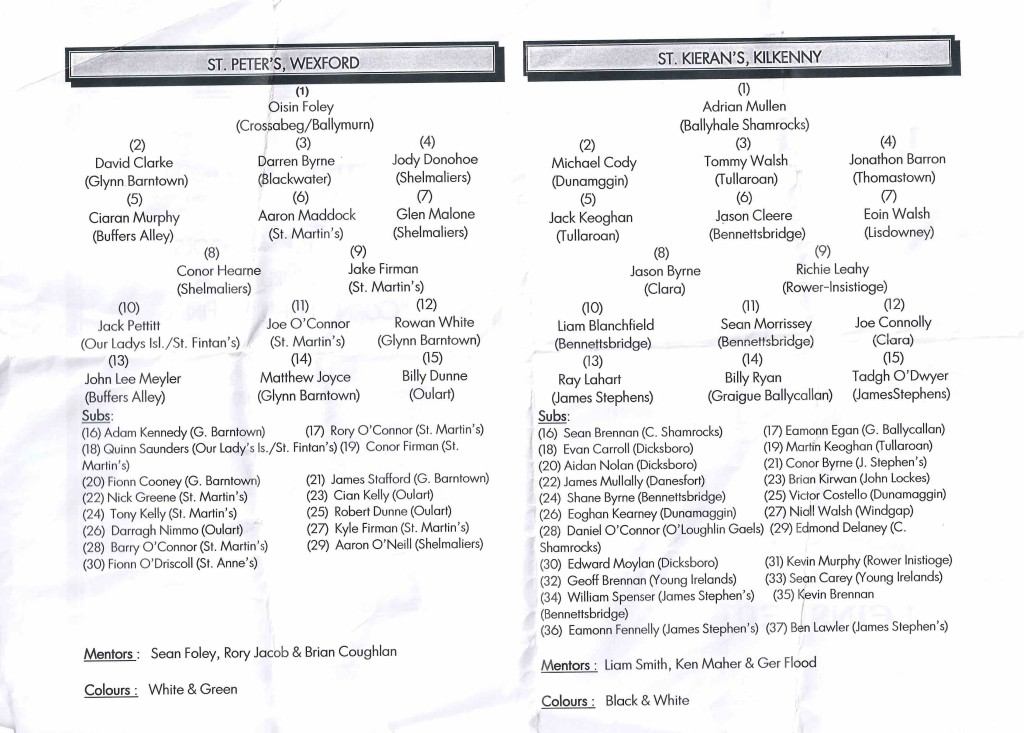 St Kieran's scorers: Richie Leahy 1-1, Joe Connolly 0-3 frees, Ray Lahart 0-2 frees, Liam Blanchfield 0-2, Billy Ryan 0-2, Sean Morrissey 0-2, Tadgh O'Dwyer 0-1 and Jason Byrne 0-1 (sideline cut)
St Peter's scorers: John Lee Meyler 1-0, Mattew Joyce 0-2 (1 free), Jack Pettitt 0-2, Billy Dunne 0-2 frees
For the match report in the Irish Examiner please click on Irish Examiner – Leinster Final Match Report 2015