Back Row: (L-R) Oisín Gough, Martin Keoghan, Conor Byrne, Geoff Brennan, James Phelan,
Colum Prendiville, William Spencer, Edmond Delaney, Padraic Mullen.
Third Row: (L-R) Mr Michael Walsh, Victor Costello, Adrian Mullen, Ben Lawler, Eamonn Fennelly,
Jake Cullen, Patrick Brennan, Dylan Jordan, Evan Carroll, Tommy Ronan.
Second Row: (L-R) Mr Ken Maher, Bríon Kirwan, James Mulally, Robert Kerwick, Darragh Phelan,
Aidan Nolan, Eoin O'Shea, Ciarán Brennan, Niall Delaney, Brian Crowdle, Mr Liam Smith.
Front Row: (L-R) Diarmuid Phelan, Joe Cuddihy, Matt Kenny, Joe Connolly, Michael Cody (Vice-Captain), Tommy Walsh (Captain), Edward Moylan, Darren Mullen, Seán Carey, Tom Whitty.
St Kieran's College v Árdscoil Rís, Limerick
All-Ireland Final – Semple Stadium – Monday 28th March
1. Darragh Phelan
2. Conor Byrne
3. Tommy Walsh
4. Evan Carroll
5. Michael Cody
6. Darren Mullen
7. Matt Kenny
8. Martin Keoghan (0-01)
9. Edmond Delaney (0-02)
10. Joe Connolly (0-02)
11. Calum Prendiville (0-01)
12. Adrian Mullen (0-05/0-03f)
13. Seán Carey
14. Joe Cuddihy (1-03)
15. Edward Moylan (0-01)
Subs: Aidan Nolan for Matt Kenny (40), Geoff Brennan for Seán Carey (59), Niall Delaney for Conor Byrne (60+1)
Ciarán Brennan, Victor Costello, Oisin Gough, James Mulally, William Spencer, Brian Crowdle, Dylan Jordan, Robert Kerwick, Bronn Kirwan, Ben Lawler, Padraic Mullen, Eoin O'Shea, Tommy Ronan, Eamonn Fennelly, Paddy Brennan,
Jake Cullen, Diarmuid Phelan, James Phelan, Tom Whitty.
The following is how the teams lined out on the day: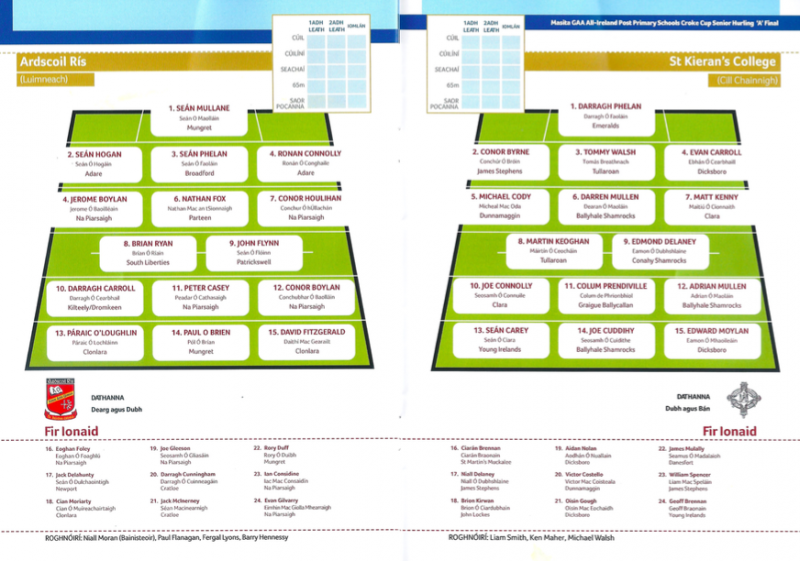 21st Croke Cup Title for St Kieran's College
St Kieran's College captured the Croke Cup for a record 21st time following a 1-15 to 1-13 win over Árdscoil Rís of Limerick in the 2016 All-Ireland Post Primary Schools Final. Click on the 2016 All-Ireland post Primary Schools A Final Match Programme for the more details about the teams.
Semple Stadium in Thurles was the venue on Monday March 28th for what proved to be yet another tense but absorbing All-Ireland Final between the Munster and Leinster Champions with St Kieran's deservedly winning out in the end.
Ardscoil Rís made the early running to be ahead 0-6 to 0-4 at the end of the opening quarter but St Kieran's quickly drew level with Adrian Mullen to the fore and it was 0-6 apiece by the 19th minute. Soon after, the College pounced for a crucial goal when Joe Cuddihy got on the end of a ball and, having been hooked, managed to skilfully pull on it into the net.
St Kieran's were 1-8 to 0-7 clear at the interval yet Ardscoil Rís received a huge boost early in the second-half with a goal almost immediately after the restart. But that was not the impetus for Árdscoil Rís to push on and instead St Kieran's took over. Colum Prendiville raised a white flag and Joe Cuddihy emerged as the focal point of their attack as he picked off three points in a row. It was 1-12 to 1-7 in favour of St Kieran's before Ardscoil mounted a strong rally in the last quarter. Árdscoil had four unanswered points until Edward Moylan popped up to score a point for the College which made for a nail biting finale. The margin was now down to two, 1-13 to 1-11 with eight minutes remaining.
Adrian Mullen pushed St Kieran's three clear before O'Brien landed a pair of frees to cut the gap to just one point. However, despite keeping in touch, Árdscoil could never break down the resilient St Kieran's defence and were unable to draw level. Joe Connolly landed the insurance point to seal glory for the College in the final few seconds and St Kieran's were crowned All-Ireland champions for the 21st time. Tullaroan clubman and captain of the team,Tommy Walsh accepted the Croke Cup.
Reflecting back on the year, this was one of the most successful years in the history of hurling in St Kieran's College. This team won the Leinster League, a record 54th Leinster title and a record 21st All-Ireland Colleges title. Not only that, but this All-Ireland victory made it an historic three-in-a-row All-Ireland Colleges A Senior hurling titles for the school, a feat which has only been accomplished once before in the school's history in 1988, 1989 and 1990. Great credit is due to Mr Liam Smith who managed all of the three-in-a-row All-Ireland winning teams from 2014-2016 and who also won an All-Ireland Colleges title as a Leaving Certificate student with St Kieran's in 1992. Well done to everyone involved on this outstanding achievement as another glorious chapter is added to the proud hurling tradition of St Kieran's College.
For photos of the 21st Croke Cup Title from Semple Stadium click here
Match reports from the Kilkenny People to follow
Video links to Joe Cuddihy's goal and the TG4 video of the full game will be available here shortly
For reports in the National Media click on the links below:
The Irish Examiner Match Report
Irish Independent Match Report
The 42.ie All Ireland Match Report