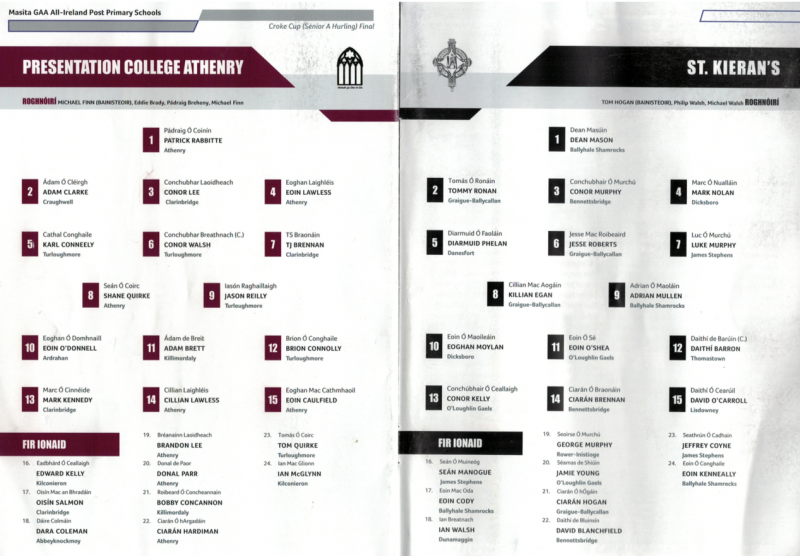 Saturday 31st March will be spoken about and remembered for quite some time, as the senior hurlers of St Kieran's College claimed their 22nd All-Ireland Croke Cup title following a thrilling game of hurling in Semple Stadium against Presentation College, Athnery. St Kieran's won the All-Ireland Post Primary Schools title after extra time on a score line of 5-19 to 3-16.
St Kieran's got off to a great start and put in a fine first half performance. The highlight of the first being three goals in five minutes from Daithí Barron (Captain), Ciarán Brennan and David O'Carroll. This meant the St Kieran's were 10 points clear at half-time (3-7 to 0-6). They built on that lead in the second half, and made substitutions showing the depth of talent in the St Kieran's side. They looked comfortable with 10 minutes but suddenly, the Presentation rallied to score two goals in quick succession, followed by a third late into the game. The Presentation had done enough to force extra time with a full time scoreline of 3-12 to 3-12.
However, the St Kieran's team showed great character and didn't panic in extra time and quickly recovered and set about restoring their lead. Jamie Young certainly helped, grabbing a goal in the first half of extra-time and the College were 4-16 to 3-14 in front after the first period of extra-time. From there they never looked back. Points from Conor Kelly (2) and Ciaran Brennan stretched their lead before Ciarán Brennan's second goal ended an epic evening of hurling in Thurles and once again, the hurlers of St Kieran's College had showed great resolve, courage and character to secure the Croke Cup for a record 22nd time.
SCORERS: St Kieran's College – Ciaran Brennan (2-1); Adrian Mullen (0-7, 0-2 frees); Conor Kelly (0-7, 0-2 frees, 0-1 65); Daithi Barron (1-2); David O'Carroll, Jamie Young (1-0 each); Eoin O'Shea, Ian Walsh (0-1 each). Presentation Athenry – Mark Kennedy (1-9, 0-5 frees, 0-2 65); Adam Brett (2-1); T.J. Brennan (0-3); Ian McGlynn (0-1, free); Cillian Lawless, Eoin Caulfield, Conor Walsh (0-1 each).
All in the St Kieran's College community would like to take this opportunity to offer hearty congratulations to everyone involved in this fantastic achievement. We would like to congratulate all of the parents and their families who supported the lads throughout the year. Without the support of parents and families such achievements would be impossible. We would like to especially acknowledge the mentors of the team: Mr Hogan, Mr P Walsh and Mr M Walsh for their commitment, leadership and for the long hours of preparation put into training the team and getting them ready for the All-Ireland final. Many thanks to those in the local community who sponsored the team and wished them well before the game. Such support is invaluable. Finally, we wish to thank all of the panel of players who trained so hard and prepared themselves so well in order to earn this victory. All players can be very proud of the part they have each played in this wonderful achievement. Well done to everyone involved.
St Kieran's College
1. Dean Mason (Ballyhale Shamrocks)
2. Tommy Ronan (Graigue-Ballycallan)
3. Conor Murphy (Bennetsbridge)
4. Mark Nolan (Dicksboro)
5. Diarmuid Phelan (Danesfort)
6. Jesse Roberts (Graigue-Ballycallan)
7. Luke Murphy (James Stephens)
8. Killian Egan (Graigue-Ballycallan)
9. Adrian Mullen (Ballyhale Shamrocks)
10. Eoghan Moylan (Dicksboro)
11. Eoin O'Shea (O'Loughlin Gaels)
12. Daithi Barron (Thomastown)
13. Conor Kelly (O'Loughlin Gaels)
14. Ciaran Brennan (Bennettsbridge)
15. David O'Carroll (Lisdowney)
Subs
19. George Murphy (Rower-Inistioge) for O'Carroll (36)
18. Ian Walsh (Dunamaggin) for Moylan (46)
20. Jamie Young (O'Loughlin Gaels) for O'Shea (49)
17. Eoin Cody (Ballyhale Shamrocks) for Barron (51)
12. Barron for Egan (half-time in extra-time)
22. David Blanchfield (Bennettsbridge) for Murphy (half-time in extra-time)
Referee: Fergal Horgan (Tipperary)
For more photos from the game please click here.
For some media reports of the game please click on the links below: